Under the title "Die Jagd nach Golf" (The Hunt for Golf) the golf book was published by the golf magazine author Heinz Schmidbauer. The international golf professional tells stories from his life as an athlete and manager. The book is also a guide for beginners and advanced golfers and contains numerous tips on technique, setting and equipment.
About the author Heinz Smidbauer

Heinz Schmidbauer was an international golf professional. In addition to his playing career, he made a name for himself by working with many international sports world stars such as Arnold Palmer, Nik Bollettieri and many more. He also worked as a coach and manager and was involved in the construction and design of golf courses. Today he lives in Italy and Austria.
Forewords were written, among others The 5 star golf professional Mannie and the ex ski racer Evi Mittermaier, president of the Reit im Winkl Golf Club.
"The book by Heinz Schmidbauer describes his life's work, his diversity, his knowledge and passion, which was an enrichment for the golf sport and
is" Jonathan Mannie, PGA's of Europe Board Director, ex- National Coach Switzerland and Austria.

"35 years ago Heinz accompanied and inspired me with my first golf shots. As my teacher back then he informed me about everything that happened in golf, and he still does today. In his book worth reading, he takes you on a journey through the exciting and sometimes arduous life of a professional. He knows the tough professional sport from his own experience. He guides you through the highs, recommends the most beautiful courses in the world and also the lows, and reveals how you can improve your game when you are in a crisis. Evi Mittermaier. Ex-ski racer, President GC Reit im Winkl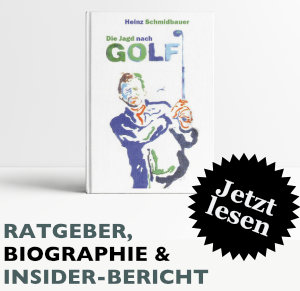 The Golf Book
The first part deals with the international golf business, the significance of IMG for sports marketing, Arnold Palmer, the history of the Sporting Club Berlin and the Maria Theresia Golf Club. In addition, the end and a new beginning in Austria.
A career full of injuries, golf with world-class players and famous personalities on world-class golf courses.
The second part is all about Heinz Schmidbauer's favourite golf course, the tragedy of Peter Burgstaller, Amateur and professional golf. It is also about the perfect golfer, frustration with golf or golf over 60 and the end of any career.
Order now!