Golf has the image of being an expensive sport. But is that true? And what do you have to budget for golf equipment, especially for beginners?
One thing is certain: Golf can be expensive, but it doesn't have to be. As is the case almost everywhere, there are hardly any upper limits on the price scale. Hand-forged noble clubs and noble clubs are the one end of this scale. But with lakeballs and used clubs it works just as well, and much cheaper.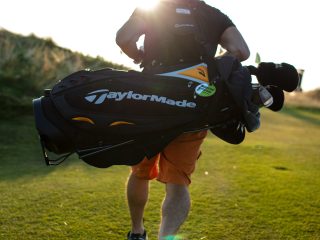 What's important to know: at first, you don't need your own golf equipment. Because if you attend a golf course here, the clubs for it are usually provided. So you can try out in peace whether golf suits you at all. You learn the swing, the rules of golf and much more. And only later does the question arise as to whether you need your own golf equipment.
At some point you will have to buy your own golf equipment
Those who are permanently enthusiastic about the sport and want to get deeper into it, however, cannot avoid purchasing their own golf equipment. In the long run, there is no way around your own clubs and other golf accessories, especially since it is more fun to play with your own equipment anyway.
However, many interested parties find it difficult to find the right equipment. Essentially, there are two major challenges. On the one hand, there is often a lack of clarity as to what is important when choosing a club, and on the other hand, some people are afraid of having to invest a lot of money in their equipment. However, good equipment does not have to be expensive; you can also find first-class products in the inexpensive segment.
Cost of golf clubs
"He who buys cheap, buys twice!" – the wisdom also applies to the purchase of golf equipment. In principle, it is therefore advisable to make a conscious decision to purchase quality products. But as already mentioned, quality does not necessarily have to be expensive. Unfortunately, the well-known names do not offer the best quality golf clubs.
Used golf clubs: sets starting at around 70 euros
The first option is to buy a few used golf clubs. These are available, for example, on eBay classifieds, in Facebook groups or other online portals. High-quality clubs can often be purchased in this way for half their original price. The disadvantage: these clubs are usually not fitted, i.e. adapted to the size and swing of the player. However, they do serve their purpose. However, if a golfer sticks with it, he will soon get to the point of wanting more fitted clubs.
Golf clubs from discounters: starting at around 130 euros
Meanwhile, online retailers such as Tchibo or Lidl also offer golf equipment. We wanted to get a picture of the latter , which unfortunately did not succeed. That's why we can't make a recommendation here, with prices starting at around 130 euros.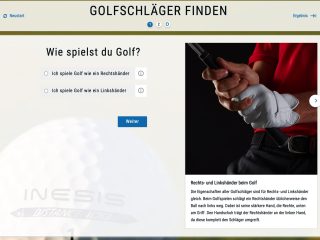 In addition to the well-known top brands, there are other golf brands that are not quite as well-known, but still promise high product quality. Decathlon, for example, offers many private brands that are developed in-house and sold through its own stores. This allows Decathlon to offer the products at good prices. What particularly convinces us here is that the golf clubs can be adjusted by a fitter, and a complete set is available for as little as 170 euros. This makes Inesis our recommendation for getting a good golf set at a good price.
To find suitable and inexpensive golf clubs, you can useDecathlon's golf advisor. This determines suitable clubs on the basis of some body data.
Half the set – same playing fun
If you want to start with high-quality clubs from a well-known brand, but still want to save money, you can purchase a so-called half set. It includes only half as many golf clubs as standard equipment. In the case of the irons, for example, the clubs 9, 7, 5 and 3 are then included, the intermediate sizes are missing, but this does not bother the beginner much. In addition, a driver and a putter are purchased. This saves money.
Golf equipment for beginners – What else is needed
Beginners should keep in mind that it is not enough to purchase golf clubs. The equipment also includes a suitable club bag, golf balls and tees. In addition, the outfit should not be forgotten, suitable golf shoes as well as gloves should not be missing.
These are the costs to be expected
A half set of clubs including golf bag is available from around 160 euros. The set of irons from Decathlon from 170 euros. Whether and how much you want to invest in special golf clothing is a matter of taste. Golf shoes (from 60 euros) and a golf glove (from 15 euros) make sense, however, as soon as you get more serious. And some golf clubs also have certain dress codes.
You should also plan to bring a golf bag. Balls and tees are quais the "consumables" include. All in all, we come to a sum of roughly 650 euros to start with a reasonable equipment.
What are the other costs of golf?
In addition to the equipment, there are costs for training, membership and suitable clothing. All details can be found in this overview.