At Condor and Thomas Cook, the price of golf baggage is calculated from a system of sports baggage groups and zones. Golf baggage belongs to group A on the airlines, the zone depends on the destination. There are five zones in total. The first zone includes the Balearic Islands, Bulgaria, Croatia, Italy, Mainland Spain & Portugal. Here, golf baggage weighing up to 20 kilograms costs around 40 euros if you book your golf baggage at least 30 days before departure, otherwise 45 euros will be charged.
Golf baggage at Condor: calculate costs
This model can be used to calculate the costs for other destinations. Who travels to the Canary Islands or Madeira, Malta, Turkey, Greece & Cyprus, Egypt, Morocco, Tunisia & Gambia pays 50 Euro for early booking and 55 Euro regular. If the destination is in zone 3, which is Eastern Africa, United Arab Emirates, Asia, Caribbean, Central & South America, you have to pay 65 or 70 Euro. The same price applies in zone 4, which includes Southern Africa and the Indian Ocean. If the golf holiday is in the USA, Canada or Puerto Rico, Condor also charges 65 or 70 Euro for the golf baggage.
Condor is subject to registration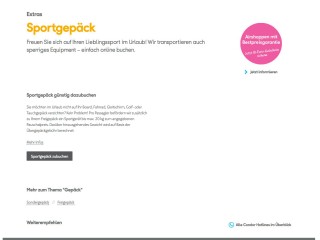 Generally, golf baggage must be registered with Condor and Thomas Cook Airlines. This can be done up to eight hours before departure. You can then take a sports baggage item with you at the appropriate price. If you have more golfing equipment with you, it has to be transported as excess baggage, which is more expensive.
Those who have booked a ticket in the Condor Business Class can take sports baggage without additional costs. However, the obligation to register also applies here. When buying a ticket online you have the possibility to register or book your golf baggage at the end of the booking process under the point "Extras".