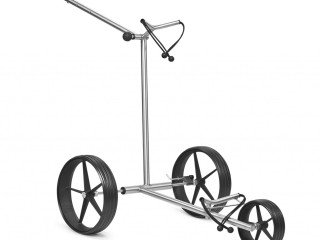 "A perfect trolley" – true to this mission statement TiCad GmbH & Co. KG, located in Altenstadt near Frankfurt/Main, has been manufacturing high-quality golf trolleys for customers with extraordinary demands on quality and design since 1989. The manufacture produces trolleys made of durable titanium and has been producing them by hand for 28 years now.
TiCad: Golf trolleys in timeless design
The timeless designs, the construction appropriate for the material and the extensive services of the premium manufacturer in the field of noble titanium trolleys distinguish each individual trolley and guarantee an extraordinary durability and quality of use.
In 2003 the TiCad Star was recognized by the district court of Frankfurt for its "exceeding, self-creative intellectual content" as a work of applied art. Successively developed further, the product portfolio of the "Golf-Titan" today comprises nine models "made in Germany": the hand trolleys TiCad Star, TiCad Pro, TiCad Andante and TiCad Canto as well as the E-Caddies TiCad Tango, TiCad Tango Classic, TiCad CarboCad, TiCad Goldfinger and TiCad Liberty. In 2016, the luxury goods network Meisterkreis has added TiCad as the first golf sport article manufacturer to its ranks. TiCad employs about 50 employees in Altenstadt. With about 370 dealers in Germany and altogether more than 600 in Europe TiCad has an extensive and established distribution network. All products are sold exclusively via Pro Shops and selected specialist shops.