In August 1996 Tiger Woods started his professional career in golf. Already in his first year he was awarded as PGA Rookie of the Year. This year he set a record in April and finished the Masters with a score of 18 under par (270 strokes). Besides this record, the Tiger broke six other tournament records.
In the years that followed, Tiger Woods developed into a model professional and was often able to prove at tournaments that he was one of the best players in the world. After winning the Memorial Tournament in 1999, golf began to dominate in a way never seen before. In addition to four tournament victories, eight further victories at smaller events were recorded this year.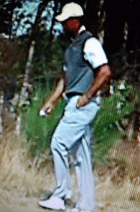 From 2003 to 2004, Tiger Woods changed his swing and lost world number one, but in these two years he was unable to win a single major tournament and was therefore forced to take second place behind Vijay Singh.
After two successful years in 2005 and 2006, he was able to fight his way back and once again set a number of new records in golf. Dominance returned until 2008, when severe injuries forced him to his knees again and again.
After a break of more than eight months due to injury, Tiger Woods returned to the PGA Tour in 2009. In November, he won the PGA Tour of Australasia by two shots, the first in a long time.
The crash followed shortly afterwards
In late November, the tabloid "The National Enquirer" headlined that Woods was having an extramarital relationship. That this headline shook him was revealed two days later when he drove off the road and collided with a hydrant. The marriage to his wife was repeatedly discussed in the media and the accident is also said to have been partly her fault.
While Woods left the so-called "Tigergate" uncommented for a long time, he stood in front of the press in December and asked for understanding that he would withdraw from golf for the time being in order to be able to take care of the family. "A better person, father and husband" he wanted to become after his infidelity and thus rebuild the family blessing. As a result, numerous sponsors parted ways with Woods.
On February 19, 2010, the situation had calmed down a bit and the tiger invited to a press conference. At the press conference, he explicitly apologised for his behaviour and at the same time declared that he would return to golf.
World class in sight, but no part of it
In the years that followed, Tiger Woods was able to play himself into the limelight again and again with good results. For example, during the FedEx Cup playoffs, which he started as the leading contender, he achieved a prize money of $100,000,000. In the overall standings, Woods took third place in this tournament.
2013 was the last successful year so far and the Tiger could be seen in its old glory again. At the start of the US PGA Tour, Woods was able to secure the 75th victory in this tournament series. He was also able to win the WGC Cadillac Championship, making this the first World Golf Championship event he has won since 2009.
With his eighth win at the Arnold Palmer Invitational, Woods even managed to push Rory McIlroy off the top spot of the world rankings. At the WGC-Bridgestone Invitational he even managed to break his own record and was considered to be back to his old one at the latest after this tournament.
After that it became more and more quiet around the once best golfer in the world. Through headlines like this one, the Tiger got into the press again and again, but could hardly convince in golf. In 2014, he only made it into the top 25 with seven starts, and in the following year he only made it into the top 10 with 11 starts. But also off the course things did not go well. After separating with his wife, Woods made a Facebook entry in 2013 that he was dating cross-country skier Lindsey Vonn. After two years the couple separated and Woods is now on his own.