All Eurowings fare options do not include sports baggage, which includes golf baggage. If golf baggage is taken along at Eurowings, it will be charged at a flat rate of 50 euros, regardless of the exact weight. This rate applies to short haul flights, on long haul flights 100 euros will be charged for golf baggage, which may weigh up to 23 kilograms.
Germanwings/ Eurowings golf baggage: How to get it on board for free
There is, however, one exception to this rule: golf baggage is free of charge on board. But for this you have to fulfill some requirements. Travellers need a "Eurowings credit card". This costs no fees in the first year, in the second year there is an annual fee of about 70 euros. Withdrawing money with the card is free of charge abroad, but there is a charge for withdrawing money in Germany. (You can find more information about the credit card online at Eurowings)
If you book and pay for your flight online via eurowings.com using a Eurowings credit card, you can then take your sports baggage with you free of charge in the next step. Under the same conditions, the transport of sports baggage is free of charge if you make a subsequent booking. However, the additional booking must then also be made with the same Eurowings credit card.
Especially on long distance flights and with two pieces of golf baggage the credit card can quickly pay off.
Check in your golf baggage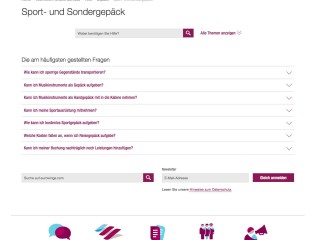 In principle, it is advisable to register your golf baggage in advance. Germanwings allows you to register up to 30 minutes before departure. However, only as long as there is sufficient storage space in the aircraft.
Free baggage allowance (in kg)
At Eurowings there are different rates for luggage. The "Smart" tariff includes one piece of luggage up to 23 kilograms, the "Best" tariff includes two pieces of luggage. Otherwise, checking in luggage is subject to a fee of 15 euros.
Excess baggage charges
For additional luggage after an online registration a flat fee of 75 Euro plus VAT will be charged. The surcharge for max. 9 kilograms overweight is 50 euros, also plus tax.