Erich Honecker is said to have once described golf as "bourgeois nonsense".* However, this did not stop some GDR citizens from swinging their clubs despite many adversities.
Today, he is press officer of the Dresden-Elbflorenz Golf Club and golf trainer of the Dresden Sport Club 1898: Bernd Rudolph (71) doesn't look it, but he is the pioneer of golf in the GDR. It all started with a holiday trip to the former Czechoslovakia in 1976. His passion for golf quickly developed into his life's work.
For the SED Politburo around Erich Honecker, an "elite sport" like golf probably didn't fit into the socialist world view. All the more difficult was the access to the sport. How did you get the idea anyway?
Bernd Rudolph: I can remember exactly. In 1976, I went on vacation with my first wife in Marienbad, which was Czechoslovakia at the time. There was one of the few golf courses in the Eastern Bloc. Out of pure curiosity I borrowed a set of clubs and got my first balls and I did not think about the political dimension.
The GDR had an economy of scarcity, and a golf course infrastructure was certainly the last thing on the mind. It must have been clear to you that you would not find the best conditions for playing golf…
Rudolph: There was no basis for playing at all. All golf courses were completely razed to the ground in 1951. The last one existed in Oberhof, Thuringia. But this fell victim to the socialist mining measures. At first I only had the possibility to travel to Czechoslovakia on holiday and at weekends to play there. Golf courses were preserved there for the purpose of tourist attraction.
Not the easiest conditions to improve your game. First of all, every golf beginner also needs professional guidance by a coach. How did you help yourself? Was there something like a handicap or a license to play?
I teamed up with good golfers from the club in Mariánské Lázn? who then acted as golf instructors for me. But the Czechoslovakians didn't know any handicaps or examinations for the license to play golf courses. If you hit the ball to a certain extent, then the course was simply approved orally.
Besides know-how, the right equipment also plays an essential role. How did you get useful golf equipment?
Rudolph: I also owe that to my Czechoslovakian golf friends. They got their equipment from western tourists from Germany or Austria. What was no longer needed, they then passed on to me for a small amount of money. When clubs were particularly worn out, my colleagues from the neighbouring country even gave them to me as gifts. For other golfers, such as Renate Graf from Dresden, I found a source of supply through relatives in the USA. They sent clubs in packages declared as sporting goods without any problems.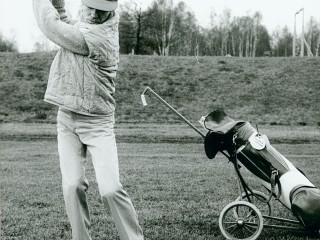 Every golfer knows the problem that balls get lost more often. In the West, people simply bought a new set. The density of golf shops in the GDR must have been relatively low. How did you improvise in these situations?
Rudolph: In addition to clubs, golf balls were of course also in short supply, so they could not be lost. With the help of a screw, we screwed in springs or a thread, so that the balls could be caught up again and again. In order to get hold of any, I had to ask for used ones in Marienbad, as I often did. By the way, to practice my tee shot, I attached an old carpet to the garage door, which caught my balls.
To play golf seriously, you need regular training sessions on an adequate golf course. Smashing into a carpet and occasionally taking odysseys into Czechoslovakia may soon no longer be enough for you…
Rudolph: After ten years of training in Czechoslovakia I wanted to enter the competition business. During my stationing as an officer in Strausberg near Berlin, I was also a member of the army sports community and was able to use their sports facilities. At first I tee off on a football pitch, but the grass had grown much too high. On a nearby archery ground I then found, thanks to a short shorn grass, reasonably acceptable conditions. However, I was only able to tee off with a 9 iron, as the pitch was only 100 metres long.
You are considered a pioneer of GDR golf. How exactly did you get this title?
Rudolph: After many lonely training sessions, I met with a few other GDR golfers in Marienbad in 1987. We discussed how we could establish a golf club in the GDR. As an officer I had a few contacts. After my command to the army museum in Dresden in 1988 I went to the board of the German Gymnastics and Sports Federation in Dresden and presented our request. The bureaucratic process and the preparation of a list of all golf players of the GDR took almost two years. On October 28, 1989, less than two weeks before the fall of the Wall, we founded the first general sports group for golf in the GDR.
Then the events came thick and fast and the political reorganization caused a lot of uncertainty among the GDR population. But now it was to take another year until German unity. How did it continue for you and your sports group Golf?
Rudolph: At first we assumed that the GDR would continue to exist under different political conditions. So in April 1990 we founded the first internationally recognized golf association of the GDR. We were promptly invited to the international four-man team championships in Lindau on Lake Constance. So we were the first and last GDR national team to take part in an international golf tournament.
The East-West divide in golf is unfortunately still noticeable 25 years after the fall of the Berlin Wall. 51,000 golfers on 60 courses in the east face 587,000 golfers on 664 courses in the west. We have to do all the more convincing work for the sport in the new federal states…
Rudolph: Indeed, 40 years of golf abstinence and the socialist doctrine of elite sport have left their mark. But this is only a partial truth. One thing is only the thing of the others until one appropriates it oneself. This leads the statement that golf is a sport of the rich to absurdity.