We regularly introduce artists who deal with the topic of golf. But how did the art of golf come about in the first place? Here is a short history of origins.

The first records of the game of golf are found in the form of prohibitions of the sport. Both Edward III of England (in 1363) and James II of Scotland (in 1457) tried to ban the game, as it interfered with archery practice on the communal meadows. Around the year 1501 Scotland had a passionate golfer in James IV. Scotland, where dunes, areas of short grass and sand, are common at sea, was predestined for golf: In 1744 the Honourable Company of Edinburgh Golfers was founded in Leigh and six years later the Royal and Ancient of St Andrews. England only had the Royal Blackheath. Dune-like land is rare there and since the lawn mower had not yet been invented, railways could not be developed.
Portraits of the club chairmen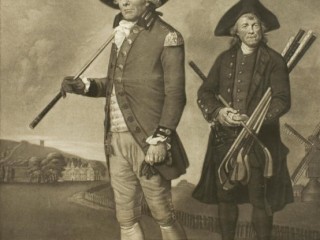 Some golf clubs began to have their chairmen portrayed and when other golfers requested reproductions, engravers made printing plates that could be used to make art prints. The the first print produced in 1790 was a black and white "mezzotint" (copper intaglio) showing the chairman of the Royal Blackheath Golf Club, William Innes after a painting by L.F. Abbott. The motif typifies the image of an early golfer: inside in a red golf jacket and white breeches. A hand-coloured and hand-printed version is available as an open edition entitled "The Goffers at Blackheath".
In 1850 "The Golfers – A Grand Match at St Andrews Links" was published as an engraving by Charles Lees. The picture shows a scene during the royal and historic annual meeting of 1841, which is one of the best-selling motifs in the gallery's range, according to a London gallery owner specialising in golf motifs.
In the early days of golf, players used clubs with long wooden shafts and banana-shaped heads. The golf balls were made of hand-stitched and feather-filled leather, which made the sport relatively expensive and exclusive at that time.
The popularity brings further motives
In the middle of the nineteenth century, two developments increased the popularity of golf and golf art: In 1848, a rubber called "gutta-percha" was discovered, resulting in inexpensive and waterproof golf balls, and the invention of the lawn mower, which made inland golf courses possible. Both made the sport more affordable and from seven golf clubs in 1800, their number rose to 2,300 in 1900.
After golf had become more accessible, a wider range of golf art was created with more lively and humorous motifs.
Golf cartoons
In 1890 the magazine "Vanity Fair" published prints of caricatures by the artist "SPY" (Sir Leslie Ward). Soon even portraits of professional golfers who had long been considered second-class citizens were created. The British Open Tom Morris (1821 – 1908) was one of the first to have his portrait painted in 1861, '62, '64 and '67.
Two artists made a special contribution to the development of the art of golf in the 19th century: Francis Powell Hopkins (1830-1913) and Thomas Hodge (1827-1907) together painted about 200 motifs in oil and watercolour. Hodge painted golfers in St Andrews while Hopkins did most of his work around the course in the town of Westward Ho. Devon created. He was also one of the first golf journalists to write regular articles for "The Field".
Cecil Aldin and Clement Flower painted motifs that have become famous today through the spread of their art prints: "The Triumvirate" by Flower, painted in 1918, shows the master golfers J.H. Taylor, James Braird and Harry Vardon and is one of the most highly regarded golf pictures of the 20th century.
In the 1930s, few art prints were published on the subject of golf, but after the Second World War Lawrence Jossett made a number of engravings with scenes from the 19th century, some of which are still available today, such as "The Last Green" and "The Practice Shot". In the fifties the Englishman Arthur Weaver began to accept commissions and his contemporary landscapes and scenes now comprise more than a hundred sheets, 30 of which have been reproduced as prints.
Golf fantasy landscapes
Today there are at least two dozen art publishers producing contemporary, traditional and humorous motifs, as well as pictures of golf equipment or even The popularity of realistically painted golf landscapes may have been fuelled by television, which discovered golf in the 1970s and has been broadcasting images of the world's most famous and beautiful golf courses into our living rooms ever since.
Artists whose realistic paintings have enjoyed great popularity for more than ten years are Graeme W. Baxter, Terence Macklin and Linda Hartough. Graeme Baxter says of herself: "I see myself as part of a long tradition of artists who have tried to give an accurate historical picture of the sport by painting its courts. Golfers pay attention to detail and take great care when a green and its surroundings are not accurately painted". His colleague Terence Macklin says: "People want realism. The golf art market demands contemporary golf motifs painted in the traditional manner".
American artist Linda Hartough says of golf art: "It's a challenge to create a great painting and at the same time depict a golfer's favorite scene, but my goal is to go beyond the scene in every piece of art I create. When you look at a golf hole, you have to see what a golfer likes about it and how he plays it. It must also be considered a landscape – a work of art."
Loyal H. Chapman, known for many years as a golf artist for his series "18 Infamous Golf Holes", lives in the best of two worlds in his own opinion. Although he plays golf excellently with a handicap 0, it seems certain that his main contribution to the game is his wonderfully mystical way of combining his love of golf with the infinitely diverse beauty of our planet so masterfully into works of art.
Author: Jörg Kiekebusch