EDM stands for "Electrical Discharge Machining", an electro-erosive removal process in mechanical engineering. In production, high-tech and craftsmanship meet and form an individual masterpiece out of every EDM putter. Almost three years of development time and seven patents are invested in it. Countless individual steps, many of them manual, are necessary to produce the EDM putter – from five-axis milling to coating and polishing. The many individual precision parts are made of lightweight aluminium. Golf professionals also let their experience from years of tournament golf flow into the development of the putter.
Perfect play – thanks to forgiving properties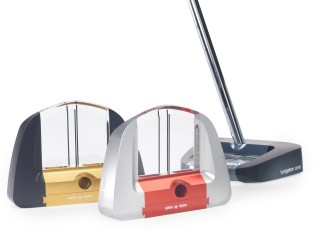 The result is a golf club that combines many features that improve the game. The three lines on the transparent part of the EDM putter help the player to optimally align the putter and to control the eye position with the "chine grain principle". In the outer parts, far away from the centre, heavy tungsten wedges are incorporated, which greatly reduce twisting of the EDM putter during "off centre hits". Even if the ball is addressed at the tip or the heel and is also hit there, the "roll" of the ball is still very impressive. It enables a straightforward pendulum motion and minimizes rotation of the wrist and vibrations at the moment of impact. In addition, the EDM putter allows for optimal speed control.
Model variants: "individual" or "balanced
The EDM putter is available in two different model variants and colour combinations. It costs from 849.00 EUR for the model variant "EDM individual". Individual shaft length, lie angle and engraving make the EDM putter an individual unique piece. In the "EDM balanced" version (1,178.00 EUR), the golfer also receives a weight system integrated into the shaft.