The putter is played between 28 to 40 times and the driver only about 14 times per round of golf. The putter plays a major role in the golfer's bag.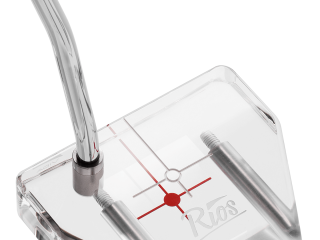 This is where the two young entrepreneurs Niko Osenberg and Florian Reif come in. Together with their golf trainer Martin Weick, who laid the foundation for the putter back in 2013 with his own company, they founded the company Rios Golf in August 2016. They developed a putter that combats everyday problems on the greens such as club face twisting and wrist insertion.
Unlike other putters on the market, Rios does not use metal, but acrylic glass as clubhead material. This gives the player a particularly soft and pleasant touch, and the material also enabled the three founders to develop the 2-Cross Technology. Two crosses, which are located on the top and bottom of the putter head, must be congruent during the entire putt movement. This enables the player to make a much more constant swing at the correct level. In addition, the player receives direct feedback as to whether the club face is twisted in the stroke. In the long run, this gives the player the confidence on the greens that is so important.
The two young founders Osenberg and Reif, who have been close friends for almost 15 years, seem to complement each other perfectly in their cooperation. Osenberg comes from the field of business administration, while Reif graduated in sports management.
Together with the experienced golf trainer Weick, they form a competent trio. "We only had to make a few changes to our coach's prototype, and yet the development of the club was extremely difficult. In the end the customer wants a high-end product at a fair price. We had to take that into account," recalls Osenberg.
The rackets have been available on the company's website.