Short Golf is the short game in golf. 90 percent of the golfers do not reach the greens regularly on classic golf courses, they need an additional stroke to get to the putting, the approach shot. This approach shot and putting, that is Short Golf.  Short golf as an independent game takes place on artificial turf surfaces built for this purpose.
Golf in a small space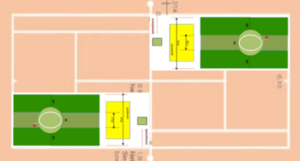 As in the big golf, the greens of short golf islands are also well defended, there are different obstacles that complicate the approaches. Thus, each hole has its own character. Short Golf islands offer different challenges to each player, i.e. depending on the skill level there are different solutions.
The smallest Short Golf island is a combination of two, composed of two fairways. It is suitable for short golf, for example on tennis courts. The artificial grass surfaces can easily be rolled out on tennis courts and are immediately playable.
Tennis facilities offer the infrastructure required for golf operations, such as sanitary facilities and catering.  If these facilities are also barrier-free, then golf becomes a health factor for everyone and everywhere – even indoors and in all seasons and weather.
Indoor Short Golf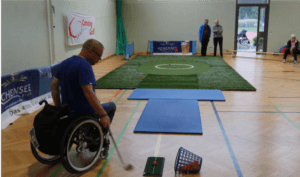 In the rehabilitation center of the AUVA in Bad Häring, Carvinggolf has installed a short golf course in a basketball hall on the occasion of the International Day of Paraplegics and offered wheelchair users golf in a small area.
The participants and interested people could have a sniff with our Masterprofessional PGA Christoph Kilian. The clubs are specially adapted to wheelchair users. After a short explanation by Christoph Kilian most of the participants were immediately ready to play.
Outdoor Short Golf
If a two-course Short Golf island is turned into a three-course combination and this is built into open terrain, then it plays there as on a classic short course. Thus, the golf experience can be experienced over several rounds. Competitions are also feasible, so that a larger target group can be addressed. Golfers also see a big advantage in it, because short golf significantly improves their score.